After buying your freeze dryer, the next big expense you'll face is storing your freeze dried food! Whether you're looking for short-term storage options or long term food storage solutions to increase the shelf life, you will likely want to include Mylar bags in your supplies.
I'm all about finding the best quality and the most affordable pricing. So, after reading several different mylar company recommendations from other freezer dryers, I set out to make a comparison chart of pricing, options, and sizes. There was just too many factors to be able to easily compare all the options without a chart.
This post
may contain affiliate links
. Freeze Dry Foodie uses affiliate links that help support this website and free content with no cost to you. We may receive a small commission for purchases made through links on this website. Thank you for supporting this small family run website! See our
policies page
for more information.
I thought, maybe this information would be helpful for you, too. I know it made a big difference for me in deciding ultimately where to purchase my mylar bags for freeze drying.
Mylar Thickness Matters
You may be tempted by some of the lower pricing options you might find around on supplier websites or on Amazon, for example. But don't be fooled! Just like a really cheap, thin trash can plastic bags aren't worth a single penny, the same applies with your mylar bag choices!
You need these to be thick enough to keep out light, pests, moisture, and to not be punctured by anything going inside. If you want your foods to last 25 years, like freeze dried food can, then you need to spend the extra few cents per bag to ensure the food you lovingly prepared lasts!
Likewise, don't be drawn in by the fancy and fun looking mylar bags with a window! Those may be good for retail sales if you're looking to package and sell your goodies, but for storage around your home of dry foods, dehydrated food, or other food items and especially for long-term storage, avoid any clear mylar packaging and windows.
Straight, Zip Tops, & Gusset Mylar Bags
You'll find three main choices when shopping for mylar bags for freeze drying.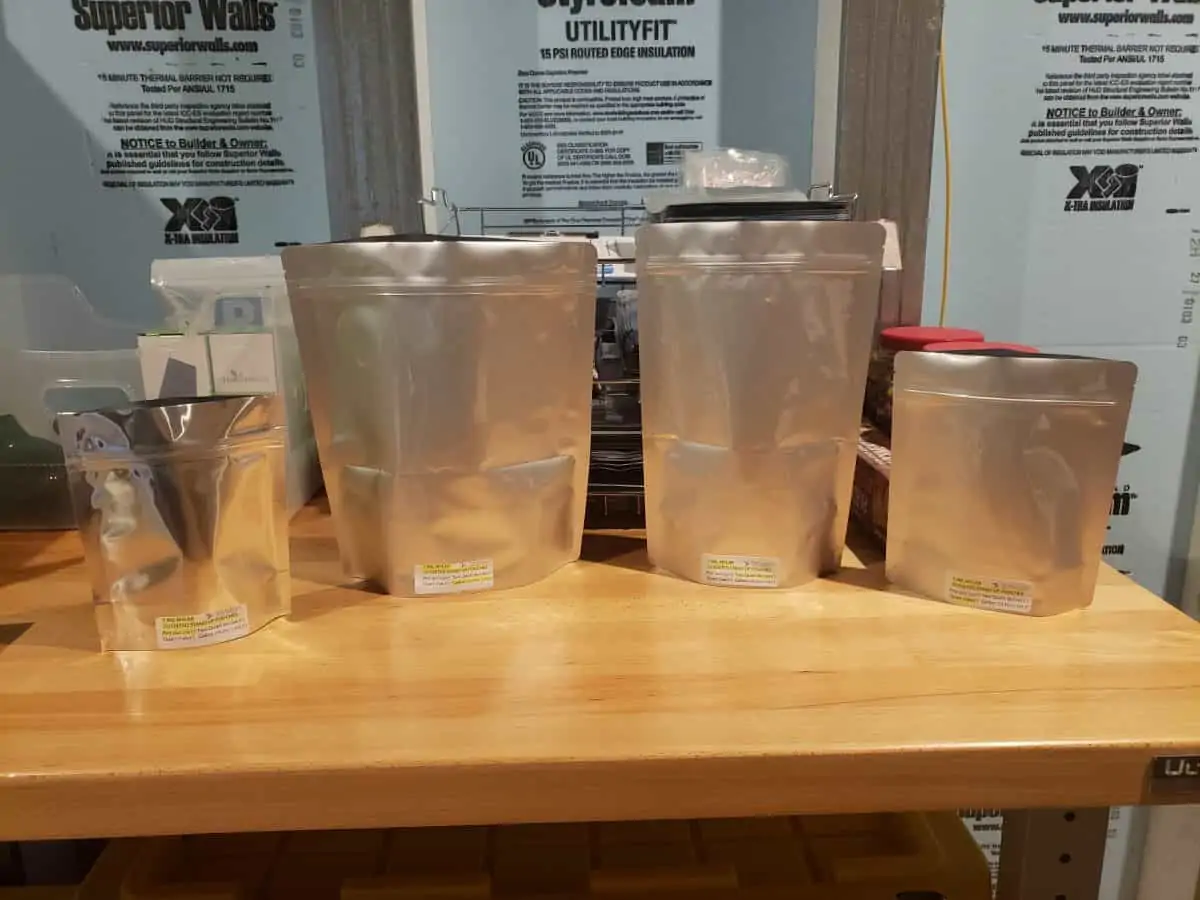 Basic Straight Edge Mylar Bag: These are perfect for resizing to smaller bags – just use your impulse sealer (or start with a vacuum sealer then heat seal) to create long-lasting seals! They're the cheapest option, but do often have pointed corners.
This may not be a deal breaker for you, but rounded corners sure are nice if you are stashing your freeze dried foods in a big tote or other type storage where they may bump into each other.
Pros: Inexpensive, easy to resize
Cons: Pointy corners, harder to keep upright in storage
Zip Top Mylar Bag: The added feature of a zippered top enclosure is a great way to store foods you may not use completely in one sitting. Just like a Ziploc bag, you can press the seal across the top for temporary storage of your opened freeze dried foods. You'll love this feature for snacks and fruits that kids will use. Alternatively, you can simply choose to repackage open freeze dried foods into other containers like canning jars or air tight food storage containers.
Pros: Short-term resealable
Cons: Generally smaller capacity than straight bags, somewhat harder to reuse
Gusset Mylar Bags: The gusset style of mylar bags stand upright on their own and include the zip top feature as well. Since they have a wider bottom you can fit a good amount of food inside each bag. They also are perfect for rehydrating meals right inside the mylarfoil bags for instant meals on the go. For me, they were the best way to store my long term food storage and are a perfect emergency food supply option (especially for a 72-hour kit!)
Pros: Can rehydrate easily inside the mylar bag, stands upright
Cons: More expensive, hardest style to reuse
Ultimately, only you can decide which style will best fit your individual needs for how you will be using your freeze dryer and what types of food you will be making.
Mylar Sizing Guide
The most popular sizes of mylar bags to purchase are either quart or gallon mylar bags. There are a variety of other sizes including pint, 2 gallon, and even as large as a 5 gallon food-grade bucket liner.
For this guide, I'll mainly be comparing prices for quart and gallon sized mylar bags. If you're looking for other sizes, this post may be a helpful starting point for comparing those prices on your own.
How much Freeze Dried food does a Quart Size Mylar Bag hold?
A gusseted quart size mylar bag will hold approximately the same amount as a quart sized canning jar. It can hold approximately 4 cups of freeze dried food. This is considered a single-serve size (or can stretch to feed 2) for meals.
How much Freeze Dried food does a Gallon Size Mylar Bag hold?
A gusseted gallon size mylar bag will hold approximately the same amount as a #10 food storage can. These are those large cans you see in the food service section of a grocery store with items like peaches, tomato sauce, etc. It can hold approximately 16 cups of freeze dried food. This size is good for 6-8 meal-sized servings.
Mylar Bag Suppliers
Pricing Comparison
Now, that you have the information to help you decide what style of mylar bag and what sizing you will need for your freeze drying efforts, let's talk pricing.
In the Freeze Drying community, there are generally 3 suppliers readily recommended for mylar bags. In addition, Harvest Right sells them as well. As a member of the Church of Jesus Christ of Latter-day Saints, I was also curious how the LDS Distribution websites prices would compare. This comparison will include:
You will see a couple of small notes and a series of columns for the different style mylar bags offered from each company. These prices are based on website listed prices on 3/20/2021. Prices and promotions of course may vary.

Pay close attention to slight variances in mylar bag sizes across the different brands, as your storage capacity will be affected by the bag sizing. Also be very careful in mylar thickness. PackFreshUSA and DiscountMylarBags mainly carry options that are below 7 mil thickness.

Considering buying in bulk? If you can go in on a larger set with a friend or two, you can save some money! Keep in mind that the prices for PackFreshUSA do NOT include shipping. The two shipping prices were based on a shipping estimate (which is quoted to take just a few business days) to my address and may slightly vary for you.
Something really interesting to note is that PackFreshUSA's price for bulk + shipping ended up being the exact same price in my comparison versus the same number of products by adding 10 x 100ct, free shipping, and using a 10% off coupon.
You can get a 10% off coupon by subscribing to their newsletter or by registering, adding items to your cart, and simply leaving them in your cart for a few days. They'll email you an offer to check out! I did write a post on PackFreshUSA's mylar options here if that helps you decide!
Oxygen Absorbers Price Comparison
Next up was comparing the pricing for oxygen absorbers. You'll need to add one oxygen absorber, with an appropriate cc level based on your mylar bag size before sealing your mylar bags. Keep in mind, a sealed mylar bag does use a little space off the top edge of the bag.
300cc is pretty standard for most smaller sized mylar bags. Some suppliers recommend 300cc and others recommend 500cc for gallon sized mylar bags. I've compared pricing on those two sizes in both a single large pack and individually pre-packaged into groups of 10 o2 absorbers.
You can shave off a few cents by purchasing the large packs and then packaging into small pint sized canning jars in groups of 10 when they arrive. This will add a step and an expense up front, but can save you a bit over time if you use your freeze dryer a ton.

One unique thing that both PackFreshUSA and TopMylar offers is bundled sets that include both your mylar bag and the appropriately sized oxygen absorbers for sell together at a slight discount. This works out to approximately .07-.09 cents cost per oxygen absorber, depending on the package selected, when taking the mylar bags at their equivalent listed prices.
If you choose to shop with TopMylar, and need both items, it's a no brainer to choose the sets and shave a few cents off of each set of bag and oxygen absorber.
Ultimately, the right supplier will be the one that fits the sizing and style that will work best for your family. I didn't feel there was a clear winner overall, thought I did ultimately decide that PackFreshUSA was the best option for my needs. Their pricing is the lowest I could find for mylar bags and after checking out their Premium Mylar Sample Set I was convinced they were a great option for me!
Pricing Comparison Sheet Download
If you'd like to download my pricing comparison sheet to edit and adjust the document, you can download the file here:
Share your feedback:
If you have advice or feedback on this post, can you please let me know in the comments! This will help me, and others, know what works, what doesn't, and what you're loving! It can also help me to improve this post and other content to come.
Haven't purchased a Freezer Dryer yet?
Shop through our link
as a way to support our small business! We'll receive a commission at no cost to you.