My very first step, after purchasing my freeze dryer, was to create a set of labels. I love labeling things and having a distinct system that makes it easier to find exactly what I'm looking for. I knew right away I would want to create printable freeze dry food labels to make organization and the process more streamlined.
This post
may contain affiliate links
. Freeze Dry Foodie uses affiliate links that help support this website and free content with no cost to you. We may receive a small commission for purchases made through links on this website. Thank you for supporting this small family run website! See our
policies page
for more information.
How to Make
Freeze Dry Food Labels
To get started, I picked out my labels first. I would need to first know what size I would be using and brand to be able to download a template to adjust for this file. I've always been very happy with Avery's labels. They just print really good and I don't tend to have some of the issues like misprints and paper jams that I have had with off brand labels.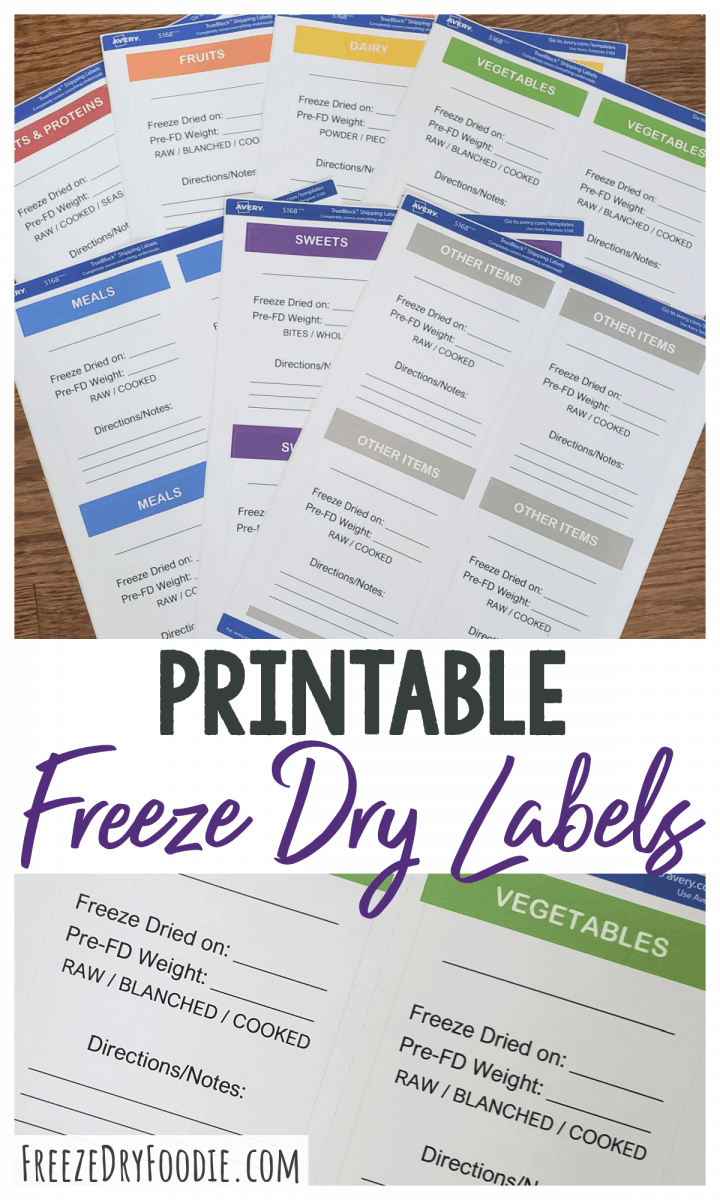 I opted for the Avery 5168 Shipping Labels. The size is 3.5″ x 5″ which is perfect for both 2-quart and gallon sized mylar bags. I wanted large labels so they would be easy to see and read, but also wanted to be economical so my goal was 4 labels per page. This was just the right size to meet my criteria.
After using these large sized labels for a while, I decided to also add in a smaller size specifically for the 1-quart sized bags (and pint, if you use those). These are the Avery 8164 Shipping Labels. They have 6 labels per sheet 3 1/3″ x 4″ and are landscape orientation. I think they'll be just a little smaller and better fit my quart packaging!
My next step was to head to Avery's website to download the free template. It's easy to download and create your own custom labels, if you want to make an adjustments to the ones I have created and will be sharing below. They do also have a design tool you can use, if you need a little extra inspiration or help with your design. I just use Word because I like to customize and have easy access to the file for edits later.
Creating Simple Freeze Dried Labels
Once I had my labels and template, it was time to customize my design. What I had in mind was created a color-coded system of labels that would help me quickly find what I was looking for and look beautiful and simply. I decided on these 7 main food groups and coordinating colors for my printable labels:
Meats – Red
Fruits – Orange
Dairy – Yellow
Vegetables – Green
Meals – Blue
Sweets – Purple
Misc / Other – Grey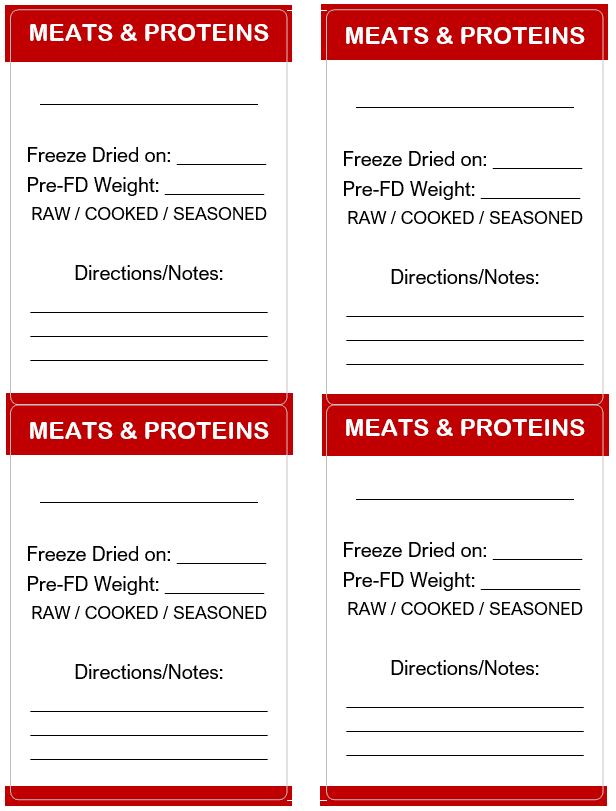 I used the advice of other Freeze Dryer users to help create what pertinent information should be on each label. All of my labels have the same basic look and aesthetic with a colored band across the top and bottom of each label. Then, they have the category listed on top.
Right below that there is a space to write in what food is inside. Next, you'll be guided to add a date, pre-freeze dried weight, and will even have a space to add any additional directions or notes to help you later with the rehydration process.
Each of the labels also has a slightly different section that can be circled for easy notation. For example, meats you can circle: raw, cooked, seasoned. You might pick one or two of these labels to circle. Vegetables has distinctions between being: raw, blanched, cooked. I thought this would be a helpful reminder to quickly and easy take note of one of the most important aspects — it's pre-freeze dried state!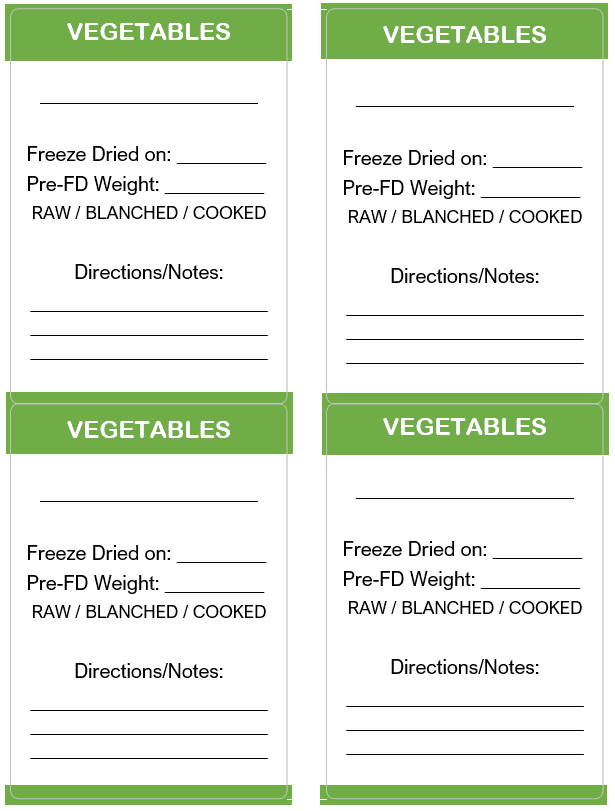 I think these food labels will nicely cover all the bases without being too busy or overly complicated! I hope you'll share your feedback on them, as well, to make future versions even better!
How to Use & Print
Freeze Dry Food Labels
Supplies:
Directions:
Download the printable freeze dry food labels (link below).
Load your paper with your printable label paper. Make sure your labels are facing the correct way in the printer tray to print onto the sticker side of the sheet.
Select your page number, if you want to print one specific type of label, or print all pages.
**Important** Make sure you select to print "Actual Size" not the default that will adjust the size down for either "Fit" or "Shrink oversized pages". Label sheets have small margins and it will not print correctly if you don't make sure this setting is correct. The labels will be slightly undersized.
Then choose print!
Once printed, fill in the label details including what food is inside and any pertinent notes to help you with rehydrating.
You can easily cover over the label in the future if reusing your mylar bags. Just be careful when washing to try to avoid water on the label. It won't be detrimental if it gets wet, but if you start to scrub at the label they usually just gum up and leave a sticky residue, rather than actually removing from the bag. If your label gets wet, just wait until it has dried before covering over it with a brand new label sticker with your next freeze dried batch!
Freeze Dry Labels Print Files
Click here or on the button below to download this 7-page Printable Freeze Dry Labels PDF file. You can save it or print from it's opened screen. But either way, this file will open up in a new tab so make sure you don't have any pop-up blockers or ad-blockers running that would disable the file to be viewed or opened.
These printable freeze dried labels are free to use for your own personal, non-commercial use. Please do not distribute (which means share the file with others). If you'd like to share these files – just send your friends and family the link to this post so they have access to all the information and their own copy of the labels! This helps protect my file and copyright and to give proper credit to the source. Thanks for your help with this!
Download Freeze Dry Labels Here:
Download 6ct Freeze Dry Labels Here:
Share your feedback:
If you have feedback on how to improve these labels or if you try them and love them, can you please let me know in the comments! This will help me, and others, know what's working or what to improve on for future updates to these Freeze Dried Printable Food Labels and other content to come.
Haven't purchased a Freezer Dryer yet?
Shop through our link
as a way to support our small business! We'll receive a commission at no cost to you.